Editor's Note: Two wonderful words: 'Tandoori' and "Chicken". We have our Asian communities to thank for this delight. I dare say it has become one of many Kenyan staples. No visit to an Indian restaurant is complete without a plate of tandoori chicken. There's just something about that chicken masala that makes you want to lick your fingers off...or maybe that's just me. Many associate the word tandoori with the chicken, but the word itself actually refers to a portable, cylindrical clay or metal oven that has been used for cooking and baking all across Asia and South Asia for centuries.
Traditionally, the spiced chicken is grilled in the oven and though technological advancements have resulted in modern solutions on how to cook the chicken quickly and economically, many places still use the traditional ovens. On that note, I think I am going to add "eating tandoori chicken cooked in a tandoor" to my bucket list. For now, I present you with this recipe from Farhat Abbas' kitchen. Oh, and here's a gif of a dancing chicken for your viewing pleasure:
Ingredients
4 to 5 skinless chicken pieces
1/4 cup yogurt
2 tablespoons Tandoori Chicken Masala (can be purchased from most supermarkets)
1 teaspoon oil (use olive or vegetable oil)
1 tablespoon tomato puree (optional)
1 teaspoon lemon juice
1/2 teaspoon red chili powder
1/2 tablespoon ginger paste
1/2 tablespoon garlic paste
Salt to taste
Margarine, to coat a baking tray lined with foil
Method:
All the ingredients above, excluding the margarine, are your marinade ingredients. Mix all the ingredients separately and prepare your chicken for marination.
Marinate the chicken with the mixed spices making sure to coat the pieces evenly. Preferably, the chicken should be marinated overnight for for at least 3 hours in the fridge in a container or a ziploc bag. If storing in a container, be sure that the container is covered or has a lid. if storing in a bag, remove the excess air in the bag before closing. This will ensure that the chicken retains its moistness and freshness.
Optional: To ensure that the chicken is well-marinated, gently massage the spices into the chicken every couple of hours.
Marination:
When ready to cook, preheat the oven at 350 ℃.
Arrange the chicken on the foiled tray and place it in the oven for 20 to 25 minutes.
Drain the excess oil and water again and turn the chicken one more time to bake for 5 additional minutes. This final step is more for the final f
inish to produce the vibrant red colour.
Remove the tray from the oven and keep aside to cool slightly and set for 5 minutes
.
[caption id="attachment_3328" align="aligncenter" width="300"]
Finally, transfer the chicken pieces onto a serving dish or plate.
[/caption]
Enjoy!
[caption id="" align="aligncenter" width="200"]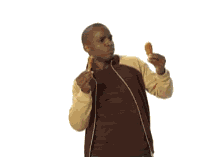 How I feel when eating tandoori chicken
[/caption]
Find more of Farhat's simple, gorgeous and yummy foods, find her on her Facebook page, Farhat Yummy Food and her Instagram food account, Farhat Yummy Food
---
---